Christian Life Article Issues From 73-78
Sep 20, 2014 1473
Series of Christian Life article issues written by Dr Desmond Ford
Issue No 73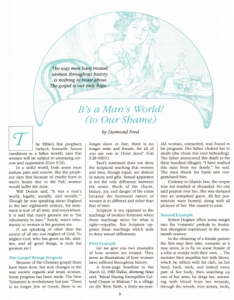 Title: It's a Man's World! (to Our shame)
Excerpt:
The Bible's first prophecy (which foretells future conditions in a fallen world), says that women will be subject to unceasing sorrow and oppression (Gen 3:16).
Issue No 74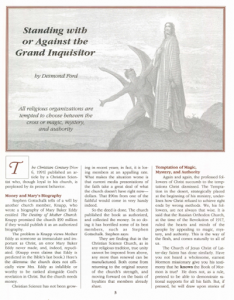 Title: Standing with or Against the Grand Inquisitor
Excerpt:
All religious organizations are tempted to choose between the cross or magic, mystery, and authority.
Issue No 75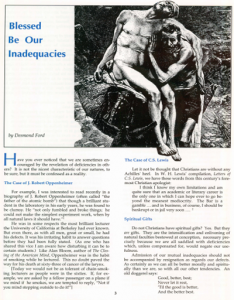 Title: Blessed Be Our Inadequacies
Excerpt:
Have you ever noticed that we are sometimes encouraged by the revelation of deficiencies in others? It is not the nicest characteristic of our natures, to be sure, but it must be confessed as a reality.
Issue No 76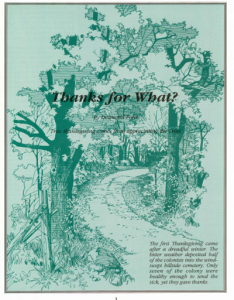 Title: Thanks for What?
Excerpt:
The first Thanksgiving came after a dreadful winter. The bitter weather deposited half of the colonists into the windswept hillside cemetery. Only seven of the colony were healthy enough to tend the sick, yet they gave thanks.
Issue No 77
Title: The Way
Excerpt:
The contents tells us about salvation and what we should preach and not.
Issue No 78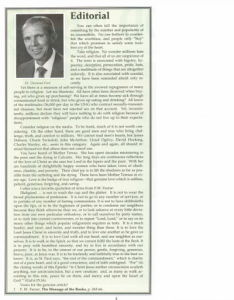 Title: Editorial
Excerpt:
You can often tell the importance of someting by the number and popularity of its counterfeits. No one bothers to counterfeit the worthless, and people only "buy" that which promises to satisfy some insistent cry.