Daily Devotional App Download
Now you can take spiritual inspiration and growth with you wherever you go!
The Daily Devotional App from Good News Unlimited is here to help you experience the power and freedom of Jesus' message daily. Thousands of Daily Devotionals, Weekly Blogs and regular video devotionals will help you understand Jesus better and transform your life from the inside out.
Download The Daily Devotional App
Download the free "Unlimited Good News" daily devotional app for your Android or Apple device. You can get it from the Google Play Store or the Apple App Store.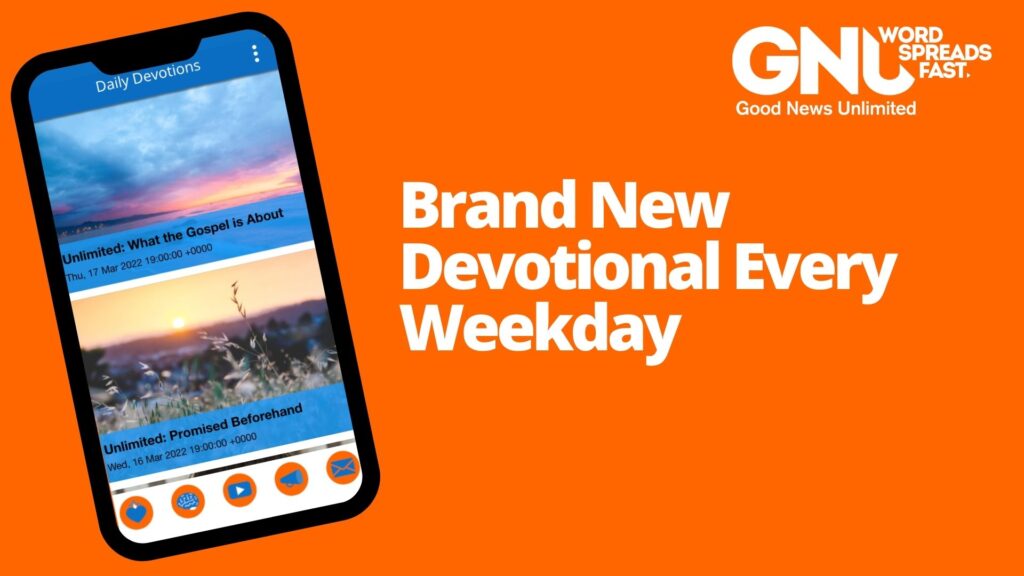 More Than A Devotional App
By downloading the daily devotional app from Good News Unlimited, you have access to:
Thousands of inspirational devotionals and brand new devotionals are published every weekday.
Hundreds of blog posts allow you to dive deeply into a topic to gain expanded insights from articles published weekly since the start of the GNU website.
Close to 300 short video devotions covering biblical topics to help you live and be more like Jesus!
Make the Good News Unlimited Daily Devotional App Part of Your Connection with Jesus!
Whether you have 60 seconds or 10 minutes, and wherever you are, you can now fill that time with the encouragement and positivity of powerful Jesus-centred messages.