Christ's Baptism and Our Hope – by Desmond Ford
May 13, 2016 2732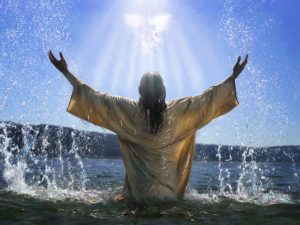 Our baptism is the corresponding movement to Christ's baptism. He went down into the water – signifying death – but he also came up again. So do we.
We have to be prepared to die for Christ, but we do so in the hope and assurance we will rise again.
Let us fix our eyes on Jesus, the author and perfecter of our faith, who for the joy set before him endured the cross, scorning its shame, and sat down at the right hand of the throne of God (Hebrews 12:2 KJV).
Death is not the end! Joy is set before us!
If death is the end, you and I are nothing but harassed, driven, dry leaves. Swirling specks of dust.
If you take all the space in us, all the space between the atoms, we end up as tiny as the head of a pin! Without Christ, we are a pinhead. And a dying one at that. Driven. Swirling. A speck of dust swept away.
But the joy that was set before Jesus is set before us. We are 'begotten … to a lively hope by the resurrection of Jesus Christ from the dead' (1 Peter 1:3 KJV). Death is not the end. The baptism of Jesus reminds us we have joyful hope!
– Des Ford. Rom 8:27-32. Adapted from "The Crises of Christ: His Baptism "
---
---