Good News Unlimited 2011 Issues
Sep 13, 2014 2253
Issue No 1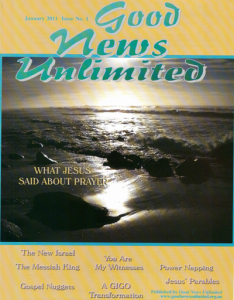 Contents:
What Jesus Said About Prayer by Santo Calarco
Gigo by Ritche Way
Jesus' Parables The Light Within You
The Messiah King by Ritche Way
You Are My Witness by Ritchie Way
The New Israel by Ritchie Way
 Issue No 2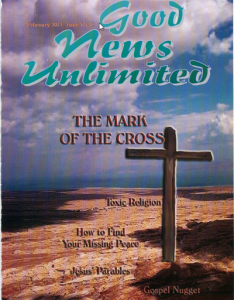 Contents:
The Mark of the Cross 1 by Desmond Ford
The Mark of the Cross 2 by Desmond Ford
How To Find Your Missing Peace by Pastor Rod Ellis
March Muster Ballina NSW by Ron Allen
Toxic Religion by Ritchie Way
JESUS' PARABLES THE GOOD FOUNDATION
Issue No 4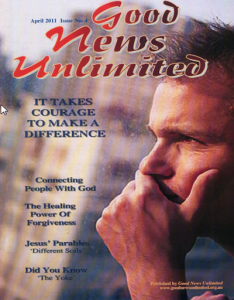 Contents:
It Takes Courage To Make A Difference by Pastor Rod Ellis
Connecting People With God by Ritchie Way
The Healing Power Of Forgiveness by Thomas Robinson
How To Interpret Scripture Part 6 by Ritchie Way
Issue No 8
Contents:
The Spring Of Living Water by Pastor Doug Martin
The Last Thing by Smuts Van Rooyen
What's A Family For? by Sue Ellis
Precious Lord by Tommy Dorsey
Life After Death by Graham H. Twelftree

Book Review by Ritchie E. Way
Issue No 12
Contents:
A Confession by Milton Hook
The True Church by Ritchie Way
Gospel Nugget
Jesus' Parables: The Lost Sheep
Home Group Ministry by Ritchie Way
The Great Mystery of God's Oneness by Boris Dobra
Vol 31 No 1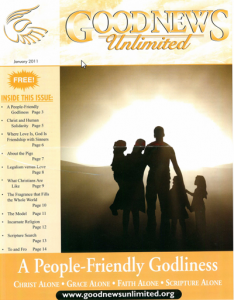 Contents:
A People-Friendly Godliness by Ron Allen
Christ and Human Solidarity by Albert Nolan
Where Love Is, God Is by Leslie D. Weatherhead
About the Pigs by Ron Allen
Legalism Versus Love by Glenn Pease
What Christians Are Like by Gordon Moyes
The Fragrance That Fills The Whole World by Desmond Ford
Incarnate Religion
Issue No 7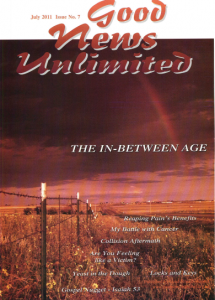 Contents:
The In-Between Age by Ritchie Way
Are You Feeling Like a Victim by Bob Gass
Reaping Pain's Benefits by Ritchie Way
Jesus' Parables: Yeast in The Dough
My Battle With Cancer by Ritchie Way
 Issue No 6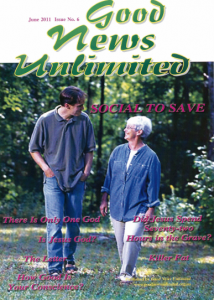 Contents:
Social To Save by Dr Desmond Ford
Is Jesus God? by Ritchie Way
The Final Rollercoaster by Dr Desmond Ford
Did Jesus Spend Seventy-Two hours In The Grave? by Richard and Tatyana Noel
There Is Only One God by Boris Dobra
The Letter
How Good Is Your Conscience? by Santo Calarco
Gospel Nugget
Jesus' Parables: Tiny Seed, Great Tree
Q&A With Ritchie
Did You Know?
 Issue No 3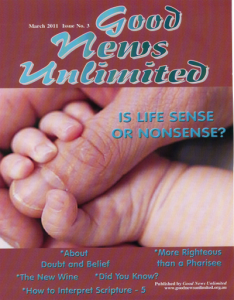 Contents:
Is Life Sense Or Nonsense? by Desmond Ford
About Doubt and Belief by Smuts Van Rooyen
The New Wine
Did You Know
How to Interpret Scripture – 5
More Righteous Than a Pharisee
Issue No 5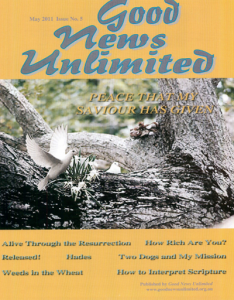 Contents:
Guest Editorial
Peace That My Savior Has Given by Pastor Doug Martin
Did You Know? by Hades
Two Dogs And My Mission by Pastor Neone Okesene
Alive Through The Resurrection
Released!
Weeds In The Wheat
How Rich Are You?
Two Dogs and My Mission
How to Interpret Scripture
 Issue No 11
Contents:
Editorial
My Father's Business Is My Business by Gabriel Dumitru
From Death To Life by Desmond Ford
Guarding The Good Deposit by Smuts Van Rooyen
The Blessings Of Poverty And The Curses Of Wealth by Ritchie Way
How To Interpret Scripture Part 9 by Ritchie Way
Health Snippets
Cancer
Jesus' Parables
The Parable Of New & Old Treasures
Gospel Nugget
Christ In You
Did You Know
 Issue No 10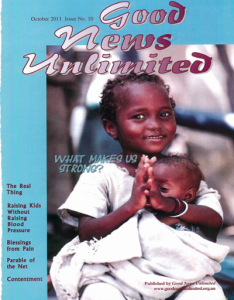 Contents:
What Makes Us Strong by Ron Allen
The Real Thing by Robert Asimov
Blessings From Pain by Ritchie Way
Raising Kids Without Raising blood Pressure by Sue Ellis
Jesus' Parables
Issue No 9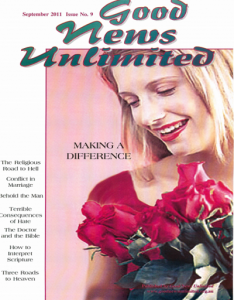 Contents:
Editorial
Making a Difference by Ruthie Jacobsen with Rodney Griffen
Gospel Nugget
The Terrible Consequenses of Hate by Gabriel Dumitru
The Religious Road to Hell by Ritchie Way
The Doctor and the Bible
Conflict in Marriage by Pastor Sue Ellis
How to Interpret Scripture Part 8 by Ritchie Way
Jesus' Parables
The Valuable Pearl
Did You Know