In the Box – by Eliezer Gonzalez
Jun 21, 2015 1603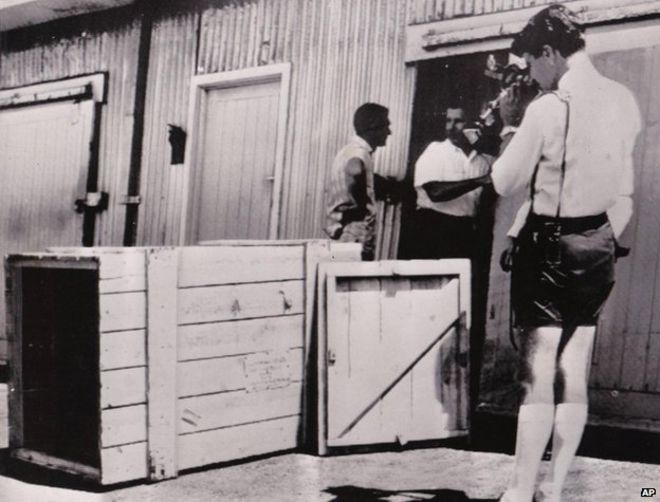 Reg Spiers is the man who mailed himself to Australia. He was an Australian athlete in the mid-1960's who found himself stranded in London with no money to buy a plane ticket back home. So he decided to post himself home in a wooden crate.
Reg asked a friend to build a box in which he could send himself home. The crate allowed him to sit with his legs out straight or to lie on his back with his knees bent. He packed some tinned food, a torch, a blanket, a pillow and a bottle of water. The crate was labelled as a load of paint and addressed to a fictitious shoe company in Australia.
The crate was loaded with Spiers inside on to an Air India plane bound for Perth, Western Australia. However there was a 24-hour delay at the airport in London due to fog.
The next stop for Spiers was Bombay, where baggage handlers left Spiers – upside down – in the sun for four hours. He almost boiled alive in there.
Eventually he arrived in Perth. He waited until the baggage handlers had put in the bond shed and then got out and made his escape. It had been a three-day journey for Spiers inside the box.
We are all going to be in the box one day, and like Spiers, we hope that we will arrive where we want to go. And like Spiers, once we're in the box, where we end up will be out of our hands.
Your eternity depends on the choices you make now. Choose Jesus. It's too late when you're in the box – and it won't be pleasant.
Choose Jesus Christ and the love that he offers you. If you do that, you are sure to arrive safely home at the end of the day.
You can read about Reg Spier's incredible life in this BBC news article, which was the source for this story.
– Eliezer Gonzalez