The News That Shook The World 1, 2 & 3
Nov 13, 2014 1448
Part 1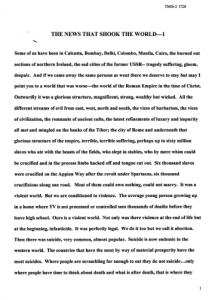 Excerpt:
Some of us have been in Calcutta, Bombay, Delhi, Colombo, Manila, Cairo, the burned out sections of northern Ireland, the sad cities of the former USSR- tragedy suffering, gloom, despair. And if we came away the same persons as went there we deserve to stay but may I point you to a world that was worse—the world of the Roman Empire in the time of Christ. Outwardly it was a glorious structure, magnificent, strong, wealthy but wicked.
Part 2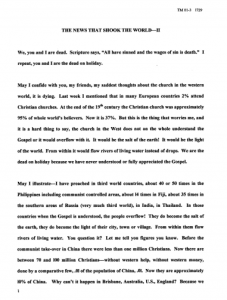 Excerpt:
May I confide with you, my friends, my saddest thoughts about the church in the western world, it is dying. Last week I mentioned that in many European countries 2% attend Christian churches. At the end of the 19th century the Christian church was approximately 95% of whole world's believers. Now it is 37%.
Part 3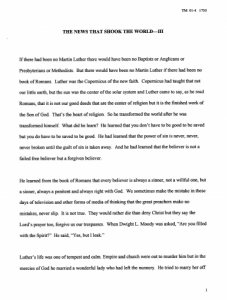 Excerpt:
If there had been no Martin Luther there would have been no Baptists or Anglicans or Presbyterians or Methodists. But there would have been no Martin Luther if there had been no book of Romans. Luther was the Copernicus of the new faith. Copernicus had taught that not our little earth, but the sun was the center of the solar system and Luther came to say, as he read Romans, that it is not our good deeds that are the center of religion but it is the finished work of the Son of God. That's the heart of religion.