What a Great Photographer!
Apr 18, 2014 2771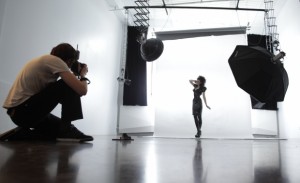 I was told that I needed some more photographs of myself for Good News Unlimited. I don't get it; if GNU had wanted nice photos when they asked me to join them, they should have found someone with hair!
Dutifully, I went to the photographer. She was a happy, chirpy little lady. I said to her, "I want to look relaxed, contemporary, and approachable." I don't always feel "relaxed, contemporary, and approachable" – ask my teenage children!
So she who put me in all kinds of awkward poses, that didn't feel like me at all. But then again, I kind of grew up standing at attention in a suit – ain't nobody gonna' wanna' see that!
She made me laugh. I relaxed. Many shots were taken.
And then it came time to look at the shots. We sat there and judged the merits of each photo; it was a process of elimination. Unnatural smile… awkward pose…. weird look on face… lack of warmth. It's amazing how few good photos were left. Although there were some useable ones there among the rubbish.
But even the better photos showed a guy with no hair, a bit too much grey, and an oddly shaped head. I guess photos don't lie; they only show the truth.
In God's photography studio he takes photos too. God has a special lens for his camera; it's called the "lens of Calvary." You can't buy these lenses in any shop; they're not for sale; they're priceless.
They always tell the truth; they never lie. You know, before I stepped into God's photography studio, that worried me, because I knew the truth about myself.
God's photography studio is called "Faith." And when I stand in Faith in the presence of the Great Photographer, through the lens of Calvary, an incredible thing happens.
There's no awkward poses, no pretense, no fake smiles. The incredible lens of Calvary! It always tells the truth; it never lies! And every photo of my life is a photo of Jesus. And every photo of my life is whole, beautiful, and complete.
Eliezer Gonzalez