1,500 Prisoners Receive 'Jesus Only' in Kenya
Jan 19, 2015 1540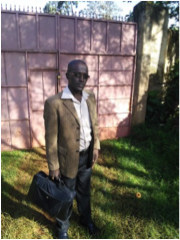 Pr Boaz has handed 1,500 copies of Jesus Only to prisoners incarcerated in Kenya. He secured permission from prison authorities to distribute the books but he could not secure permission to take photos inside. The photo you see here is of Pr Boaz outside one of the prisons. The day will come when we shall see the real men and women who are now concealed behind the prison halls, and they will tell the story of how they met Jesus through this amazing book.
Pr Boaz Nyariki, who heads up the Goshen Family Association in Kenya (a Gospel Fellowship affiliated with GNU),  is one of those who have been inspired by the work of Des Ford and notably his book Jesus Only.
Pr Boaz has tirelessly labored in obscurity, going to great length to get doors open for the gospel to spread fast. He has used his friendship, influence and initiative to get Jesus only to thousands of people in schools, churches and prisons. When you ask him about his motivations, he will tell you that we must get as many people as possible into the kingdom of grace.
– David Kayumba