A Message From Eliezer
Jun 9, 2015 1590
Dear Friend,
Thank you for engaging with the ministry of Good News Unlimited to help ensure that God's Word spreads fast!
I hope that you are enjoying your copy of Jesus Only – a book that has been translated into many languages, and brought hope and peace to countless thousands of people around the world like David from Tanzania, who writes…
"Outside the Bible, I have never read such a Jesus-centred and gospel-rooted book."
GNU carries out a range of 'Jesus Only' gospel missions around the world, including radio and television programmes. And every day we receive messages like David's and stories of transformed lives as people discover that peace and joy are found in Christ alone.
It's a great blessing to partner with friends like you help others understand their faith better, but also to help bring the lost and the broken in our world to a saving relationship with Jesus.
I can't help thinking of the story of Sammy and Josephine in this newsletter. They travelled from Europe to Rwanda on what they thought would be a holiday, but they ended up sharing Jesus every day in the marketplace, and handing out Jesus Only books. There was such happiness as people discovered Jesus, that crowds started dancing for joy right there in the middle of the marketplace. That's what we want to see all over the world!
I give thanks to God for Jesus Only. And I give thanks for you too!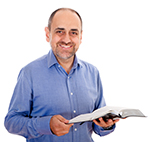 Eliezer Gonzales
CEO
Good News Unlimited