A Mission of Hope for Uganda
Dec 22, 2015 1517
Have you ever thought about the parallels between childbirth and the gospel? It sounds a little weird at first. A mother endures immense challenges just to hold her little one in her arms. The love that I, as a student midwife, witness in birth suites is a constant reminder of the persistent and overwhelming love of Christ.
I am passionate about midwifery and about sharing the gospel, but unfortunately it can be difficult to combine the two in practice. This is why I felt so blessed to be invited by Spring of Hope Uganda to visit and provide antenatal care to women, whilst also sharing the good news.
Unfortunately, Ugandan maternal mortality rates are high (around 440 deaths per 100,000 live births), and. for every maternal death, at least six women survive with chronic and debilitating ill health (World Health Organisation, 2011). With simple antenatal care, these outcomes can be improved significantly.
During our mission trip, I will be working and preaching in a remote part of Uganda, providing vital antenatal care in both clinic and home visit formats, while sharing the gospel with women who have never heard it before.
Pr Bonifresh Muhollo, Pr David Kayumba and myself will also be presenting the gospel together in public meetings. We have also planned a youth conference with the theme 'On the Road,' where we will speak about how Jesus changed the lives of people he met on the road.
I feel amazingly blessed to have the unique opportunity to combine my two passions – Jesus and midwifery – in Uganda, and I am sure it will change the lives of many, including my own!
Spring of Hope Uganda asked GNU to help them share the gospel in the communities in which they work. GNU is sponsoring my food and accommodation for a month in Uganda, however I need to raise funds for the airfare, which is $2,200.
You can help the people in Uganda who need to know the gospel, by sponsoring me on this trip.
Additionally, your prayers are much needed and appreciated!
If you are able to sponsor me, you can do it as a donation to GNU, letting our office know that it is for the Spring of Hope Uganda Mission.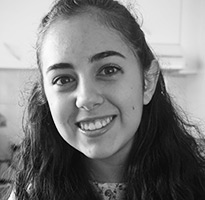 Thanks!
Rebecca Gonzalez
Rebecca Gonzalez is a student mid-wife and a volunteer gospel presenter and speaker for Good News Unlimited.