"I Have Two Children That God Gave Me": Jesus Did What 24 Years of Idol Worship Couldn't
Feb 3, 2022 647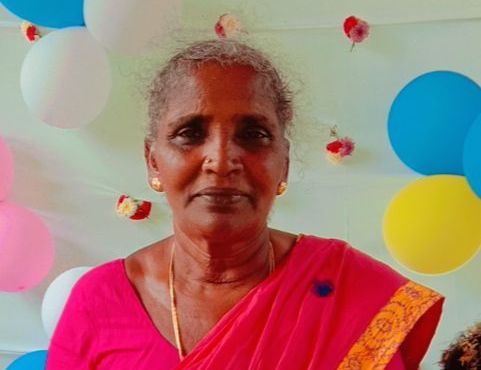 Ruthumma was Hindu and accepted Jesus into her life.
She was born into a Hindu family and did many Hindu rituals and cut goats and hens to give blood shed to the idol Hindu gods. She was married and had no children for the several years. So she went to many Hindu temples to worship and give offerings in order to have children. But she had not any children still even at 39 years of age, although she had married at the age of 15.
She did snake worships every week. She built the idol Hindu gods temples in various villages. She built a snake temple in her village and daily she went to the temple early in the morning and poured milk and cleaned everything around the temple and put flowers and did the rituals for three hours daily. She had been doing this for years.
And on other weekdays in the noon or evening times she went to other temples to lead the rituals and gather a group of woman to join with her to do the idol gods prayers. She did this for years. But she had not had any children at all. So she tired of doing idol rituals.
One day I went to her village of Gandepudi and conducted a Gospel meeting and she heard the Good News from her house. The word of God touched her heart and changed her mind.
She thanked Jesus for doing great things in her life.
Then one day she called me on the phone and asked me to pray for her. So I prayed for her and shared the Holy Gospel with her. She felt so happy and she started believing Jesus and praying daily. So she left the idol ritual prayers and she started watching the GNU TV Programme.
So after one year she had a child and another year she had another child. So she has two sons. She felt so happy in Christ Jesus. She thanked Jesus for doing great things in her life. She is now happier in Christ Jesus.
She says,
I accepted Jesus into my life. After accepting Jesus into my life I have two children that God gave me. I did many Hindu rituals in the temples. But that was no use at all. It is Jesus and the Holy Gospel which changed my life. I am so thankful to Jesus for the rest of my life. I and my sons are so happy in Christ Jesus.
– Pr Joseph Usala