To Hell With Standards!
Nov 13, 2014 1011
by Dr Desmond Ford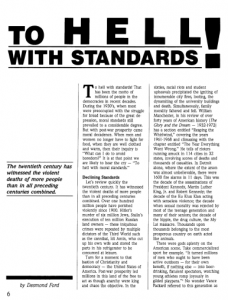 [vc_button title="DOWNLOAD ARTICLE PDF" target="_self" color="default" href="https://s3-ap-southeast-2.amazonaws.com/dgsgriognu/PDF+or+Articles+2/To+Hell+with+Standards!.PDF"] Excerpt:
To hell with standards! That has been the motto of millions of people in the democracies in recent decades. During the 1930's, when most were preoccupied with the struggle for bread because of the great depression, moral standards still prevailed to a considerable degree.