How You Can Have Your Gift Doubled Today!
Apr 15, 2015 1415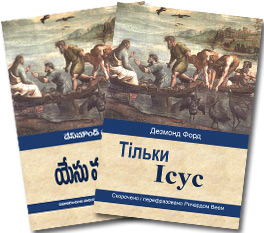 Thanks to friends like you, our March Appeal is still going strong, providing vital resources to share the gospel through Jesus Only.
The proceeds of this appeal will fund a series of Jesus Only initiatives, including gospel-based evangelistic programmes, radio and television broadcasts, and the printing and dissemination of more sorely needed Jesus Only books (they have run out in many parts of the world!). Your support will also help GNU to spread the gospel into the Czech Republic, the Philippines, and further into Africa and India.
The best news is that one of our wonderful supporters believes in the ministry of Jesus Only so much that they are providing a match fund for all donations to this appeal. That means your donation will be doubled to help reach twice as many people with the gospel.
Each Jesus Only book costs $1 to print. And so, thanks to the match fund, each $50 you give allows us to print 100 books instead of 50. We can now fund 30 minutes instead of 15 minutes of radio broadcasting. This is a wonderful opportunity to help the Word spread twice as fast!
To allow GNU to continue its Jesus Only-themed gospel initiatives, we have set a budget and a faith-target of $120,000, including $60,000 from the match fund. The wonderful GNU family has done it before and we can do it again, though the grace of God and the generosity of friends like you!
So if you haven't given — or feel led to give again — please prayerfully consider giving a gift, knowing your gift will be doubled by the match fund. And please keep the needs of the gospel in your prayers to help GNU reach more people for Christ and his gospel.