On Time and Eternity
Nov 3, 2016 2099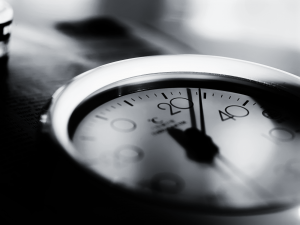 On December 7, 2016, I hit 30 years! For the first time in my brief history, I had someone buy me a gift. It felt more special than anything in my life. On Facebook I had 50 people posting on my timeline "happy birthday!" I even had my mother call just to wish me a happy birthday.
Forty-eight hours later, all the excitement cools down. I find myself reflecting on the meaning of being 30 years old. As I write this, the awareness of time is deeply embedded in my heart and mind. For the first time, I feel a little sad now that I am stepping into my 30s. Like every other child, I always wanted to grow up fast. I was eager to live the life of an adult. I had bordering-to-absurdity ambitions for my life – attaining a PhD, having a family, driving to church every Sunday and all that stuff – all by age 30.
Unfortunately, things have not turned out exactly the way I dreamt. The way time flies while human progress crawls amazes me. Again, when I look back, I see a number of things that I am not so proud of, like making enemies where I should have made friendships, cursing where I should have blessed, hurting where I should have nursed. Time, the nature of it that we are unable to go back and begin it all over again, now seems so unfair. Caught up in this madness of time, the unending cycle of days and seasons, overtaking our plans so fast that we can't possibly do anything significant under the sun, makes one think that Arthur Schopenhauer, the German pessimist philosopher, was not exactly mad. How life under the curse of time, gives us just but few second chances, which are not 'second chances' in reality.
Given that we all have made mistakes which we feel we could correct had time been redeemable, and that now we have to live with consequences of mistakes made in our past, either by ourselves, our families, communities or the whole human family, the all-time question is: Is there any hope beyond this?
What says the book?
Two thousand years ago, a man by the name of Jesus of Nazareth came to this earth with a theory that sounded out of the ordinary, as interpreted within the context of time. His coming to this earth was itself a breach of conventional wisdom in religion and physics. First, he was born of a virgin woman. Second, he lived as if ignorant of time. Third, when his death came, he didn't run away from it like we do, but he was led into it like a lamb going for slaughter. While he was hanging on that tree, crucified and writhing in unthinkable psychological and physical pain, he could gather his last breath and declare: "you will be with me in paradise" (Luke 23:43). To prove this theory, he rose from the dead on the third day, when all chances of resurrection had been deemed zero. By his resurrection, he gave us a lasting sign that he had conquered both time and death, and ushered humanity into the mind-boggling possibility of eternal life. Oh, the wonders of God! I repeat, His resurrection was not just a miracle but a sign of the demise of time and death.
While the idea of eternal life makes Quantum Physics' theory of time travel seem like child's play, physics has shown that time can be defied all the same. However, the idea of eternity does not depend on the laws of physics, whether quantum or classical. The same reason why origin of life is a mystery to all science and yet a possibility is the same reason why the mystery of eternity does not necessarily have to be absurd. The God who creates out of nothing is the same who resurrects from nothing.
As long as we have faith in Jesus, we don't have to brood over the past. There remains a virgin future waiting to be explored by all children of God, a future in the realm of eternity. There, we shall neither grow old nor die. We shall plant and harvest, build and inhabit. In heaven, we shall not have to make mistakes and regret later, because we shall be perfect.
The following are not my words, but the words of the Bible:
For God so loved the world, that he gave his only begotten Son, that whosoever believeth in him should not perish, but have everlasting life (John 3:16)
Sell that ye have, and give alms; provide yourselves bags which wax not old, a treasure in the heavens that faileth not, where no thief approacheth, neither moth corrupteth.( Luke 12:33)
And God shall wipe away all tears from their eyes; and there shall be no more death, neither sorrow, nor crying, neither shall there be any more pain: for the former things are passed away.( Revelation 21:4)
– Pr Bonifresh Muhollo