Perfectly His Child – by Desmond Ford
Apr 18, 2016 1827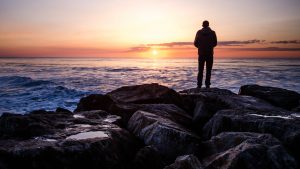 The more I behold Christ's perfect embodiment of infinite love and truth (as exemplified in his every motive, thought, look, word, and deed), the more my conscience would be vexed did I not also believe that his personal righteousness is imputed every moment to this foolish, erring, weak, stumbling believer.
Similarly, the more I perceive of the depths of the sacred law (which demands of me all that Christ was and did in his humanity), the more I would despair did not Scripture assure me that all who have surrendered their lives to the Saviour are "accepted in the beloved," (Eph 1:6) "cleanse[d] … from all unrighteousness," (1 Jn 1:9) and without "condemnation" (Rom 8:1) or separation.
Despite the fact that we strive to fulfill every known duty, we remain "unprofitable servants," (Lk 17:10) righteous only by faith in the merits of Christ, for we all make many mistakes and must pray daily "forgive us our debts" (Mt 6:12). In other words, the Good News assures me that if I have given myself to Christ, I am perfectly his child, though not a perfect child.
While I am a sinner in myself all my days, in Christ I have perfect righteousness, for "this man (Jesus) receiveth sinners," (Lk 15:2) and God is the one who justified the ungodly who believe.
While at every advance step in my Christian experience my penitence will deepen; and while I will make the apostle's confession my own, "I know that in me … there dwelleth no good thing" (Rom 7:18); and my prayers will urgently ascend that the Saviour might help the disorders of my sin-sick soul; simultaneously, I will rejoice that Christ is made unto me righteousness, sanctification, wisdom, and redemption, and that I can never be lost while I trust in his merits.
– Des Ford. Rom 8:27-32. Adapted from "A Meditation upon the Everlasting Gospel"
---