Romans Article Issues 9 – 16
Oct 10, 2014 1827
by Dr Desmond Ford
Issue No 9
Excerpt:
We are saved by grace. To illustrate, Paul uses three metaphors. One from the law court, one from the slave market, and one from the temple. Jesus is aur true High Priest and he made his complete atonement for us at Calvary.
Issue No 10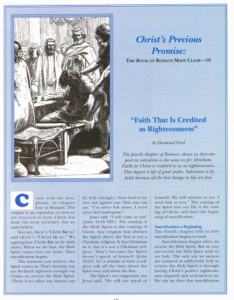 Excerpt:
Come with me now, please, to chapter four of Romans. This chapter is an expansion on how we are restored to God. Christ has done the work necessary, but we must believe.
Issue No 11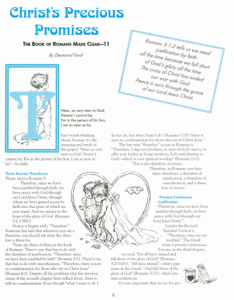 Excerpt:
That's worth thinking about, because it's the meaning and result of the gospel. "Near, so very near to God, Nearer I cannot be; For in the person of his Son, I am as near as the"-by faith.
Issue No 12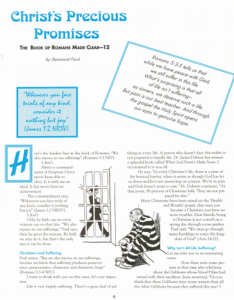 Excerpt:
Here's the hardest line in the book of Romans: "We also rejoice in our sufferings" (Romans 5:3 NIV). I don't.
Issue No 13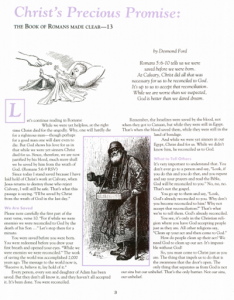 Introduction:
Romans 5 :6~10 tells us we were saved before we were born. At Calvary, Christ did all that was necessary for us to be reconciled to God. It's up to us to accept that reconciliation. While we are worse than we suspected, God is better than we dared dream.
Issue No 14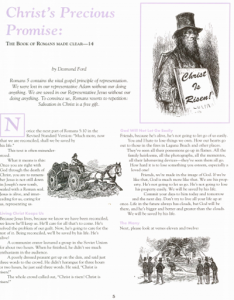 Introduction:
Romans 5 contains the vital gospel principle of representation. We were lost in our representative Adam without our doing anything. We are saved in our Representative Jesus without our doing anything. To convince us, Romans resorts to repetition: Salvation in Christ is a free gift.
Issue No 15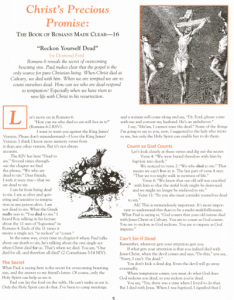 Introduction:
Romans 6 reveals the secret of overcoming besetting sins. Paul makes clear that the gospel is the only source for pure Christian living. When Christ died at Calvary, we died with him. When we are tempted we are to count ourselves dead. How can we who are dead respond to temptation? Especially when we have risen to new life with Christ in his resurrection.
Issue No 16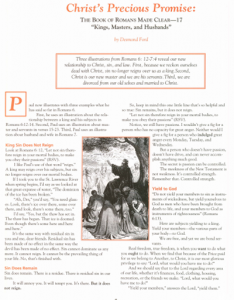 Excerpt:
Paul now illustrates what he has said so far in Romans 6.