Theo the Collector
Nov 6, 2013 1920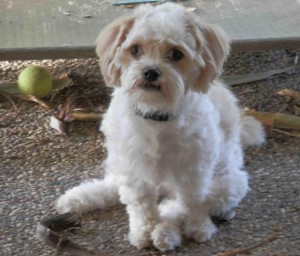 By now you should be getting to know Theo the Gospel Dog. He is the Gospel Dog because I learn lessons about the gospel from him. (By the way… his hair is growing back, so he is looking better now, as you can see from this photo I took just now.)
One thing you don't know about Theo is that he is a magnificent collector. He collects toys, bones, palm fronds, balls, roots, bark, leaves, and just about anything that he thinks is beautiful and adds value to his little life. He will jump up as high as he can reach to find these jewels, and he will dig down for days just to find just the right trinkets.
And then he dumps them all on our back porch. Here is a photo I just took of my back porch with Theo proudly showing off his collection.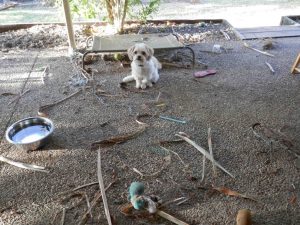 My wife said to me, "Honey, we should sweep the back porch." But I didn't do it because I wanted to take a photo of Theo's treasure store to show you. And I couldn't bear to break Theo's heart; he might get the idea that we think that all of his treasures are rubbish! Well…  it kind of is…
You and I… we are all collectors. We spend all of our lives collecting. Many of the things we collect aren't physical things we can put in a bookshelf or a coffee table. They are experiences, relationships, feelings, sensations, and secrets. Not all are good. Some are bittersweet. Many are painful: wounds, rejections, bitterness, hurts, and disappointments. There are a few things that we hold on to because we treasure them. We hold on to many because we just can't let go.
We are born collectors. For some reason our human nature attracts to itself things that it doesn't want; harmful things, so we do the things we don't want to do, and we don't do the things, we do want to do. None of us have a collection of which we can be truly proud.
The good news is that God is a Collector too. But God doesn't collect rubbish; he collects only the most precious, most beautiful jewels. And the astonishing truth is that God wants to you to be one of them.
At Calvary Jesus participated in an auction for your soul. He paid the ultimate, absolutely unbeatable price. And now he calls you precious.  At Calvary Jesus bought the right to call you his, you with all of your baggage – with all of your collection.
Belonging to Jesus comes with many privileges. What have you collected in your life? Some of it might be too much for you to keep carrying around. Let Jesus sort out your collection. Listen to what he says:
"They shall be Mine," says the Lord of hosts,
"On the day that I make them My jewels. And I will spare them
As a man spares his own son who serves him." (Mal. 3:17, NKJV).
Eliezer Gonzalez
---
---
---
---