Don't Take the Prawns! – by Eliezer Gonzalez
May 7, 2016 1890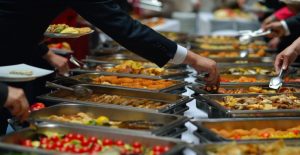 Let each of you look not only to his own interests, but also to the interests of others. – Phil 2:4 
Recently I was in an all-you-can-eat Asian buffet in Vienna, when I witnessed something that caught my attention. There was a dish in the corner and a woman who was carefully sifting through it, removing the prawns.
There was a lady behind her becoming more and more exasperated, and I, in turn, was waiting for another dish behind that lady. But she just took her time, sifting through the vegetables to remove the prawns. And when she finished, she turned around and walked off with a smug look on her face. The lady waiting behind her was furious as she realised that the prawns in that dish were all gone!
I know why she took the prawns. It was because we had paid for the "basic" buffet. For two euros more we could have had the "deluxe" buffet, which included lots of prawns and other more expensive things. The lady wanted the prawns but didn't want to pay the two euros.
Sadly, life is like that. Too many people want to cherry-pick the best out of life for themselves and leave the more undesirable parts for others. We want to have money without hard work, entertainment without getting up out of our seats, and we want to have relationships without giving.
Immediately after the apostle Paul tells us how it is in the Kingdom of God – how we are not only to look after our own interests but also the interests of others – he breaks out in one of the most magnificent hymns of praise in the whole Bible. In this hymn, the unselfishness of Christ in emptying himself for our sakes – in his incarnation, his life, and his death – is announced across all of heaven and earth:
Therefore God also has highly exalted him and given him the name which is above every name, that at the name of Jesus every knee should bow, of those in heaven, and of those on earth, and of those under the earth, and that every tongue should confess that Jesus Christ is Lord, to the glory of God the Father (Phil. 2:9–11).
Let this mind be in us. Don't take the prawns.
– Eliezer Gonzalez