FRIENDS LIKE YOU HELP SPREAD THE WORD FAST AROUND THE WORLD!
Sep 23, 2015 1062
By Eliezer Gonzalez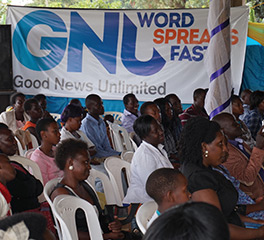 Our recent trip through India, Africa and Europe was a wonderful time of preaching, teaching and meeting with key leaders in different countries. I am sure you will want to praise God, knowing that we had baptisms on three continents during the trip!
I would not be speaking truthfully if I told you that ministry in India was easy. But it was so rewarding! We went from village to village with Pastor Joseph Usala, speaking to the prayer fellowships he's established at every village.
These meetings are often held at night amid clouds of mosquitos after the villagers return from working all day in the paddy fields. They always gather outdoors because they have no indoor place to meet. But seeing for myself how much this ministry has grown in only twelve months – and seeing the people continuing to surrender their lives to the gospel – was absolutely thrilling.
We then held evangelistic meetings in Kampala, Uganda, where more than half of the non-Christians who attended were baptised. And even many Christians who attended came to thank us personally, often with tears in their eyes. Some told us that they had never heard this message of the gospel. Others shared that they had never understood the Cross before.
Delegations from other countries in Africa are pleading with us to come and do more work, since the Good News of Jesus Christ is so desperately needed there. We had many meetings with key people from across Eastern Africa, and are currently working on plans to answer those requests! Our meetings in Sweden and Brussels were small. But almost all the non-believers who attended were baptised. Europe is difficult soil for the gospel these days, and much patience is required. Yet still, many are coming to faith. Charmaine from the Netherlands attended our meetings in Brussels and said,
"I have heard for the first time, who Jesus really is, and what he has done for me. He gave his life for me and that is why I have made a decision to surrender to Jesus and get baptised."
I truly believe this trip is a sign of tremendous things to come. So thank you for partnering with us through your prayers and support to help spread the Word fast around the world!