Is God Immoral? Another Look at Why Evil?
Sep 25, 2014 1150
by Dr Desmond Ford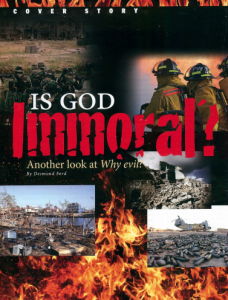 [vc_button title="DOWNLOAD ARTICLE PDF" target="_self" color="default" href="https://s3-ap-southeast-2.amazonaws.com/dgsgriognu/PDF+or+Articles/Is+God+Immoral.PDF"] Excerpt:

SOME READERS OF RECENT BOOKS BY FORMER JESUIT JACK MILES, especially his God-A Biography, have been challenged regarding orthodox Christian beliefs about right and wrong, an inspired Bible, and a righteous God.