Is Slavery a Natural Condition According to the Bible?
Sep 5, 2013 8525
Australia is at the end of an election campaign, and this is a time when politicians say interesting things. This week on the television programme Q&A, Pr Matt Prater of New Hope Church ask Prime Minister Kevin Rudd about his position on same-sex marriage. Recently, Kevin Rudd publicly came out in support of same sex marriage, the first leader of a major political party to do so in Australia. Pr Prater's question was reasonable and respectful, asking about how Prime Minister Rudd could justify his position Biblically. The Prime Minister's answer has been called the "answer of the century," and a "same-sex smackdown." He pointed out that according to the Bible, "slavery is a natural condition," and in support of this, he quoted Ephesians 6:5 where Paul tells slaves to obey their masters. If you want to see his comments, you can see the programme here and go to 55.23.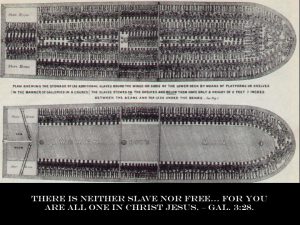 What makes Kevin Rudd's answer noteworthy is that, unlike in the USA, Australian politicians tend to be unwaveringly secular in their public personas. There is little mixing up of politics and religion. For a politician in Australia to refer to the Bible is usually cause for public ridicule. Not in this case. This is not a blog about same-sex marriage. Since he's gone on the public record on the issue, this a blog about Kevin Rudd's understanding of the Bible and Christianity. The issues here go to the heart of the Gospel.
To say that slavery is a natural condition is to imply that it was the way God designed it in the beginning – that God approved of a society that included slavery. The first explicit mention of slavery in the Bible is in the story of Joseph in Egypt (Genesis 39), although Abraham's household apparently had slaves as well. That's a long time after creation.
The New Testament teaches the inherent equality of all human beings according to the creation order, since God "has made from one blood every nation of men to dwell on all the face of the earth" (Acts 17:26). This is a direct challenge to the justifying notion inherent in the concept of slavery in ancient and modern slavery that slaves are essentially different to the free.
Why then does not the Bible speak out more clearly and directly against slavery? Because between creation and where we are today something happened called the fall, and as a result the Bible is God's revelation to a fallen humanity. This is a humanity that corrupted God's original plans, corrupted society, and "invent[ed] ways to be evil" (Rom. 1:30).
The purpose of God's revelation through the Bible was to lead people back from darkness to light. This is not something that can happen all at once. God has in many worked throughout history within the parameters of the culture at the time, revealing what people most needed to know at that point in time. Just as God never approved of slavery, He never approved of polygamy either. As Paul says, in the past God "overlook[ed] ignorance" (Acts 17:30). One way of looking at the Bible, and particularly the Old Testament, is to see it as God trying to pull people kicking and screaming out of brutal barbarism, reminiscent of Conan and friends. (Sometimes it seems that's still a work in progress today!)
It is the coming of Jesus Christ that changes everything. This is where this has to do with the Gospel, because at the cross every single human being is revalued according to the worth of the sacrifice that God has made there. Now, as Paul says very clearly, "[t]here is neither Jew nor Greek; there is neither slave nor free; nor is there male and female, for you are all one in Christ Jesus." (Gal. 3:28.) In spite of this, however it may be that Christians understand that humans need to treat each other, this vital Gospel principle has taken time to work itself out through society. And the early apostolic church wasn't on about necessarily transforming the social order of the day, because it largely thought that that Jesus was coming back in their day!
However it is largely through the work of Christians who understood the Gospel, such as William Wilberforce in England, and Abraham Lincoln in the USA, that slavery was officially abolished in a major part of the world in the early modern era. And it is significantly through the work of Christian ministries today who understand the Gospel, that the scourge of slavery continues to be tackled today.
For these reasons, I cannot agree with Prime Minister Kevin Rudd that slavery is a natural condition. I respect Pr Prater for asking the question, and I respect Kevin Rudd for going on the public record with his answer on a controversial topic. However, although the Prime Minister may have won popular applause for giving the impression that the Bible is the great oppressor of freedom, and that only the most radical and minimalistic interpretation of its teachings will do, but I will not subscribe to that applause. If he is wrong about what the Bible teaches about slavery, one is left to wonder about whether he is wrong about the main point of the discussion.
Eliezer Gonzalez
//
---
---
---