Jeevan and His Family Find Hope in Christ Through Friends Like You!
Nov 10, 2016 33937
Jeevan and his family are among thousands of people in India whose lives are being transformed as you introduce them to Jesus through GNU TV's gospel broadcasts.
Jeevan is wheelchair-bound after an accident caused the loss of his leg. He, his wife and two daughters felt trapped in their poverty. They often had no food to eat.
Every day, Jeevan searched for food – and meaning in life. Then, one day thanks to generous friends like you, he came across the GNU program on TV. As Jeevan listened to the Word of God, he became "empowered" by the gospel. That's when he began to pray for the things he and his family needed.
One day, out of the blue, a man came and gave them some rice to eat. Acknowledging God's faithfulness to supply his need, Jeevan gained spiritual strength by continuing to pray and by asking his family to watch the gospel messages presented by Pastor Joseph Usala on the GNU TV program week by week.
Then God showed his faithfulness once more when a friend told Jeevan that he wanted to help Jeevan's daughters get the schooling they longed for – all expenses paid. Jeevan thanked Jesus and his faith was increased.
God worked miracles for these new believers as they allowed their faith in Jesus to hold a supreme place in their hearts. Jeevan says: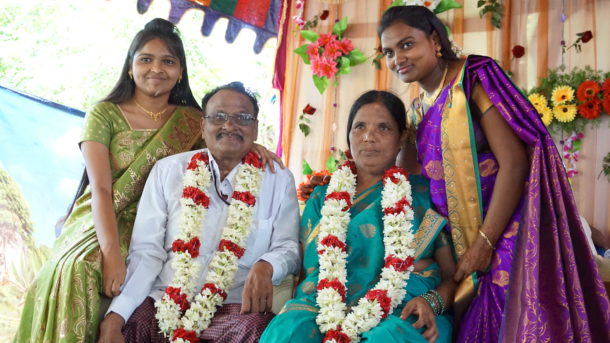 "I never knew about Jesus. I had so much disparity about losing my leg, and my family members cried for me for months. But it was Jesus who heard my prayers and my family's prayers.
 "It was the gospel message on the GNU TV channel which changed my family's entire life. Now we are so happy in Christ Jesus. I am very thankful to Jesus for everything he has done."
 This is the power of your support! God uses the gifts and prayers of friends like you to spread the Word fast and change lives like those of Jeevan and his family.
 We're deeply grateful for you!
---
---
---
---
---
---
---
---
---
---
---
---
---
---
---
---
---
---
---
---
---
---
---
---
---
---
---
---
---
---
---
---
---
---
---
---
---
---