Many Lives Transformed Through the Power of the Gospel – Parnasa, India
Jun 21, 2016 1278
Over 600 people attended a GNU evangelistic meeting in the town of Parnasa (India). From 10 neighbouring villages, people travelled to this meeting to hear Pr Joseph Usala share the Gospel. Many of the people who arrived by tractors, trucks, and bicycles to the meeting, had never heard the Gospel before. They came eager to hear the Word of God, and here are some of their testimonies:
Ramudu – I was born a Hindu man, but when I saw the pamphlet for the gospel meeting, I decided to go. After hearing the Word, I was touched and I wanted my life to be saved by Christ. I have never gone to anything like this before, and it was Jesus who brought me here. I am so very thankful to Jesus!
Radhika – I was born into a Muslim family, but I had no peace of mind growing up. I came to the gospel meeting and sat in the very back. When I heard the message, I believed and accepted Jesus into my life. I had never heard of the message of Jesus before, but now I have heard it with my own ears and Jesus has saved my life. I now pray daily to Jesus for my family, and I am so thankful to Jesus for what he's done.
Murallee is a young man who is addicted to alcohol. His wife heard about the gospel meetings and dragged her reluctant husband along with her. She asked him to sit in the front section among some of the other men. At the end of the sermon, she brought him over to talk with me. I asked him if he had heard the message clearly and if he believed in Jesus now. And he said yes! Again, I asked him what he could do to go forward to live his life for Jesus, and he said,
From here on in, no more drinking. This Gospel evangelism meeting helped me to stop drinking and accept Jesus in my life. I am so thankful to Jesus for changing my life.
Karuna is a young girl who was born into a very poor family. She has been suffering from depression and her family members find it difficult to take care of her. She travelled from a distant village on a tractor to attend the Gospel meeting. After the meetings, she came to the front and testified:
I believe that today I have received peace of mind in my life. It is only Jesus who has done what nobody else could do for me; not even my family.  The holy Gospel of Jesus has given me new life. I was so depressed because of many problems in my family and all around me. Now by the grace of Jesus, I have overcome this depression, and now I am so happy. Now I love Jesus and I read the holy Bible daily. Thanks be to Jesus for giving me peace of mind and new life through the GNU Gospel meeting I attended!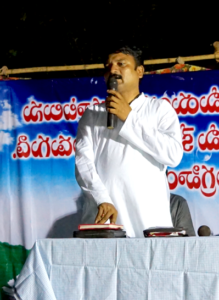 Mamatha is a housewife was dealing with family problems. Her husband would not allow her to go to the Gospel meetings, but she attended without telling him. She prayed that God would give her family peace, especially to her husband. When she heard the gospel message first-hand, she was happy to accept Jesus into her life. With great faith, she went to home to her family. She says:
I fully accept Jesus and I pray to him every day. I have come to see that Jesus is also working in my husband's life so that he will also come to understand and accept him as Saviour. I am so thankful to Jesus with my whole heart.
Rupu – I was born into a Hindu family and I grew up practicing Hindu rituals. I'd never heard about Jesus before, but I noticed several people from my village hopping onto a tractor to go to the meetings. I was curious, so I decided to go along. I am so thankful that Jesus brought me to these meetings! I have heard the word of God and have accepted Jesus.  It was through this GNU evangelistic meeting that I have come to know and accept Jesus as my Saviour.
Raduma is an older man who did not believe in Jesus at all, , mainly because he was born and raised as a Hindu. When he attended the Gospel programme he sat near the back and listened intently to every word. He says:
I have never heard the great teachings of Jesus. This is the first time in my life I've heard of him, but I am so thankful! I feel sad that all throughout my life, which has seemed to fly by, I didn't know Jesus. But now I accept Him into my life, and hereafter I will read the holy Bible every day and pray to Jesus because he is my Savior. Praise be to Jesus!
Subhamma – I Usually don't travel very far, but I came from a distant village to attend the Gospel meetings. Through this GNU evangelistic meeting that I have come to know about Jesus. Now I know that He is the real Saviour and Redeemer, and that he came to save all of humanity. I am so happy that now I have learnt about the message of Jesus! Now I know that my life has been saved in him. I am very thankful to Jesus.
Sudhakar is married and has four children. After attending the Gospel meetings in Parnasa, he says:
I have been facing so many problems in my family. After I came to these GNU meetings and heard the Word of God, my whole life has changed. And now I believe in the power of God and in the message of Jesus. Now I have peace in my heart and I read the holy Bible daily.  I am praying to Jesus for my family. Thanks be to Jesus!
– Pastor Joseph Usala