Romans Article Issues 25 – 32
Oct 10, 2014 1939
written by Dr Desmond Ford
Issue No 25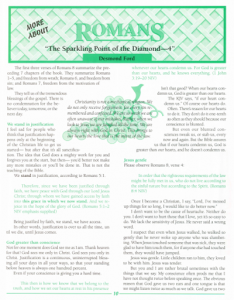 Excerpt:
The first three verses of Romans 8 summarize the preceding 7 chapters of the book. They summarize Romans 1-5, and freedom from wrath; Romans 6 and freedom from sin; and Romans 7, freedom from the motivation of law.
Issue No 26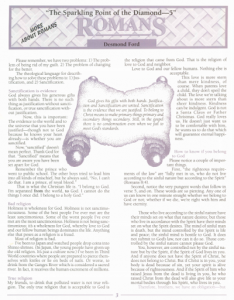 Excerpt:
Please remember, we have two problems: 1) The problem of being rid of my guilt. 2) The problem of changing for the better.
Issue No 27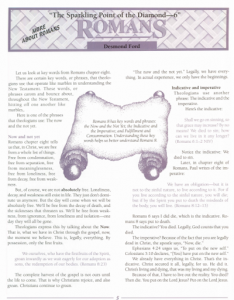 Excerpt:
Let us look at key words from Romans chapter eight. There are certain key words of phrases, that theologians use that operate like marbles in understanding the New Testament.
Issue No 28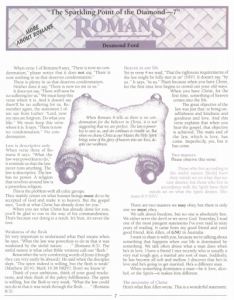 Excerpt:
When verse 1 of Romans 8 says, :There is now no condemnation," please notice that it does not say, "There is now nothing in us that deserves condemnation."
Issue No 29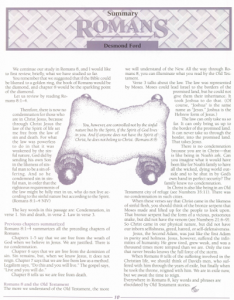 Excerpt:
We continue our study in Romans 8, and I would like to first review, briefly, what we have studied so far. You remember that we suggested that if the Bible could be likened to a golden ring, the book of Romans would be the diamond, and chapter 8 would be the sparkling point of the diamond.
Issue No 30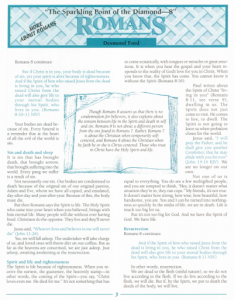 Excerpt:
But if Christ is in you, your body is dead because of sin, yet your spirit is alive because of righteousness. And if the Spirit of him who raised Jesus from the dead is living in you, he who raised Christ from the dead will also give life to your mortal bodies through his Spirit, who lives in you. (Romans 8:10-11 NIV)
Issue No 31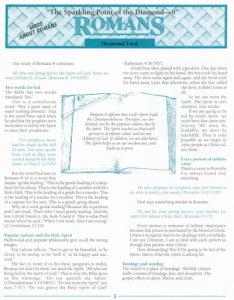 Excerpt:
All who are being led by the Spirit of God, these are sons [children] of God. (Romans 8: 14 NASV)
Issue No 32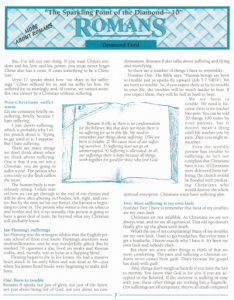 Excerpt:
But, I've left out one thing. If you want Christ's wisdom and his love and his power, you must never forget Christ also has a cross. It costs something to be a Christian.