Romans Article Issues 41 – 48
Oct 10, 2014 1469
by Dr Desmond Ford
Issue No 41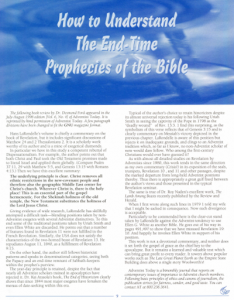 Excerpt:
The following book review by Dr. Desmond Ford appeared in the July-August 1998 edition [Vol. 6, NO.4] of Adventist Today. It is reprinted by kind permission of Adventist Today. A few paragraph divisions have been changed to fit the GNU magazine format.
Issue No 42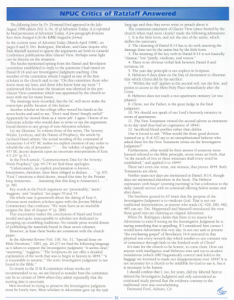 Excerpt:
In the current issue of Adventist Today (March-April 1998), on pages 6 and 9, Drs. Rodriguez, Davidson, and Gane inquire why Dale Ratzlaffseemed to ignore the arguments set forth in General Conference publications after Glacier View. Perhaps some light can be thrown on the situation.
Issue No 43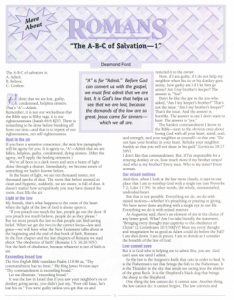 Excerpt:
Remember, it is not our wickedness that the Bible says is filthy rags; it is our righteousnesses (Isaiah 64:6 KJV). There is something to be done before breaking off from our sins-and that is to repent of…
Issue No 44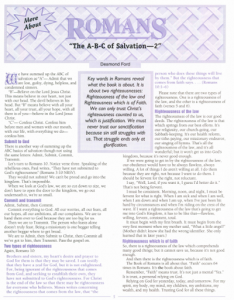 Excerpt:
Key words in Romans reveal what the book is about. It is about two righteousnesses: Righteousness of the law and Righteousness which is of Faith. We can only trust Christ's righteousness counted to us, which isjustification. We must never trust our sanctification because sin still struggles with us. That struggle ends only at glorification.
Issue No 45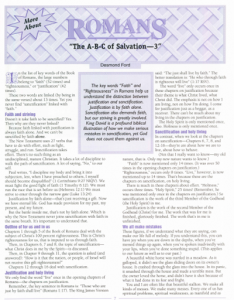 Excerpt:
The key words "Faith" and "Righteousness" in Romans help us understand the distinction between justification and sanctification. Justification is by faith alone. Sanctification also demands faith,
but our striving is greatly involved. King David is a profound biblical illustration of how we make serious mistakes in sanctification, yet God does not count them against us.
Issue No 46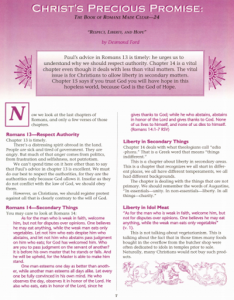 Excerpt:
Now we look at the last chapters of Romans, and only a few verses of those chapters.
Issue No 47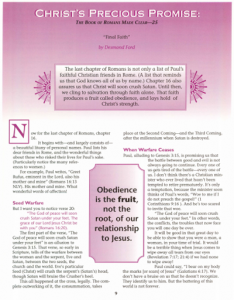 Excerpt:
The last chapter of Romans is not only a list of Paul's faithful Christian friends in Rome. (A list that reminds us that God knows all of us by name.) Chapter 16 also assures us that Christ will soon crush Satan. Until then, we cling to salvation through faith alone. That faith produces a fruit called obedience, and lays hold of Christ's strength.
Issue No 48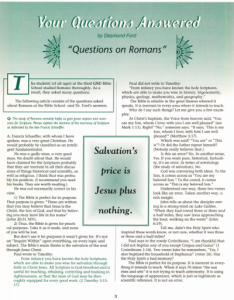 Excerpt:
The students (of all ages) at the third GNU Bible School studied Romans thoroughly. As a result, they asked many questions.