The Seven Sayings from the Cross – Part 1 of 2
Jun 6, 2014 1784
by Desmond Ford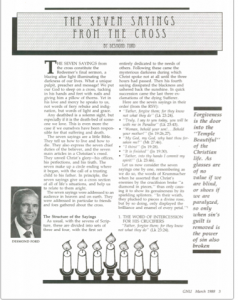 Excerpt:
THE SEVEN SAYINGS from the cross constitute the Redeemer's final sermon, a blazing altar light illuminating the darkness of our lives. What a unique pulpit, preacher and message! We put our God to sleep on a cross, tucking in his hands and feet with nails and giving him a pillow of thorns. Yet in his love and mercy he speaks to us, not words of fiery rebuke and indignation, but words of light and grace.
Any deathbed is a solemn sight, but especially if it is the death-bed of someone we love. This is even more the case if we ourselves have been responsible for that suffering and death.
The seven sayings are a little Bible. They tell us how to live and how to die. They also express the seven chief duties of the believer, and the seven main articles in a Christian's creed. They unveil Christ's glory-his offices, his perfections, and his truth. The seven make up a circle ending where it began, with the call of a trusting child to his father. In principle, the seven sayings give us a cross section of all of life's situations, and help us to relate to them aright.
The seven sayings were addressed to an audience in heaven and on earth. They were addressed in particular to friends and foes gathered about the cross.
The Structure of the Seven Sayings
As usual, with the sevens of Scripture, these are divided into sets of three and four, with the first set  entirely dedicated to the needs of others. Following these came the mysterious darkness during which Christ spoke not at all until the three hours had passed. Then his fourth saying dissipated the blackness and ushered back the sunshine. In quick succession came the last three exclamations of the dying Sufferer.
Here are the seven sayings in their order (from the RSV):
• "Father, forgive them; for they know not what they do"  (Lk 23:24).
• "Truly, I say to you today, you will be with me in Paradise"  (Lk 23:43).
• "Woman, behold your son! … Behold your mother!" On  19:26,27).
• "My God, my God, why hast thou forsaken me?"  (Mt 27:46).
• "[ thirst"  (In 19:28).
• "It  is finished"  On 19:30).
• "Father, into thy hands [ commit my spirit!"  (Lk 23:46).
Let us now consider the seven sayings one by one, remembering as we do so, the words of Krummacher when he asserted that Christ's enemies by the crucifixion broke "a diamond in pieces," thus only causing it to show its genuineness by its sparkling splinters. "In their wrath, they plucked to pieces a divine rose, but by so doing, only displayed the brilliance and enamel of every petal. "1