Young Couple Find Jesus and Marry Despite Obstacles
Mar 4, 2021 1426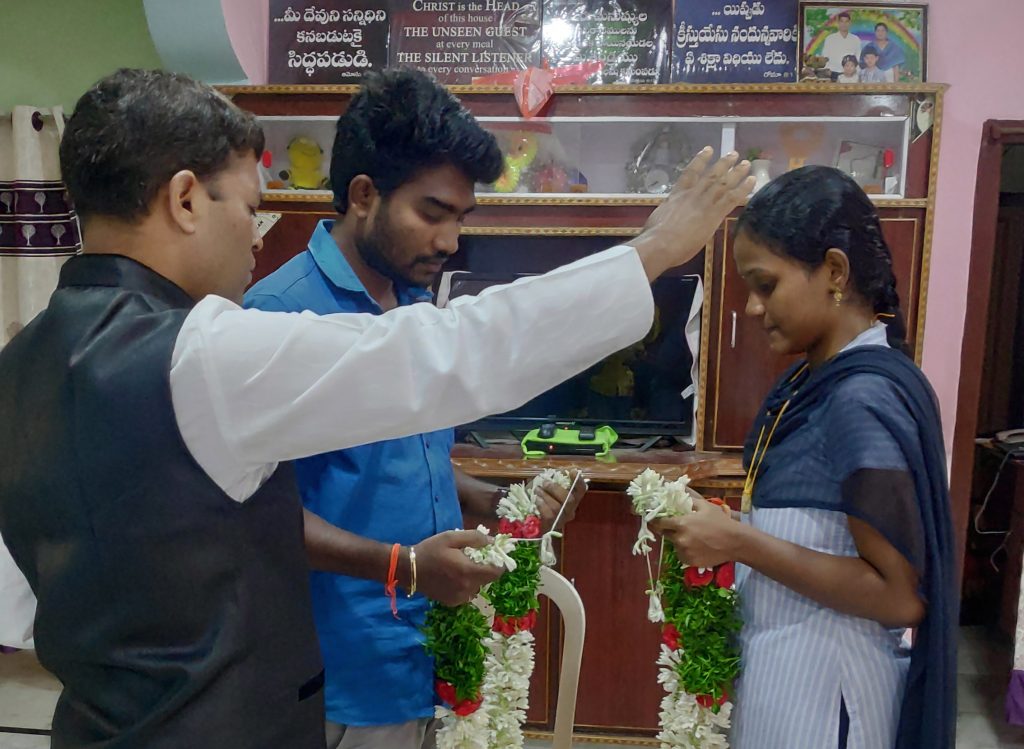 This is the story of a couple who were in love and wanted to get married, but were afraid because they knew their parents would not approve. In this time of distress, they found Jesus, and everything changed.
Dileep is a young man from the village of Korukullu, India. Lakhmi Prasana is a young woman from the village of Bomuluru. They were both Hindu and did not know about Jesus. Dileep has been working in a hotel and Lakhmi Prasana has been studying at the college. They have been in love for two years.
According to the Indian culture and traditions, if they don't have the permission and acceptance of their parents, they should not and must not marry. So Dileep and Lakhmi Prasana were thinking about what to do. They thought that if they told their parents, and the parents did not approve, they would separate them and try to arrange other marriages for them. So neither of them knew what to do in this situation. They waited for months. But nothing had been happening.
So Dileep one day went to his relatives' house where he watched the GNU TV programme. These relatives have been viewers of our GNU TV Progamme for many years. Dileep watched and heard the Word of God and it touched and moved his heart. He called me, as I host the programme, and shared everything with me about his life problem. So I prayed for him and encouraged him to get married. I told him that Jesus saves and protects you from your problems and from your parents and Lakhmi Prasana's parents.
"it is Jesus who helped me to get married and solved the problem."
So after a few days Dileep went to his girlfriend and shared everything with her. So Lakhmi Prasana also started believing in Jesus and both of them have been praying to Jesus daily. So after one month they called me to tell me that they would like to get married. So I prayed for their marriage and told them to come one day to get married. So they came in Christ Jesus and married each other and happily went home and their parents did not say anything against them.
It is Jesus who helped Dileep and Lakhmi Prasana to get married. In fact, leading up to this Lakhmi Prasana had been very afraid. But Jesus is the one who helped her and the Word of God encouraged her and touched her heart and she got faith. So both are so happy in Christ Jesus.
Dileep says,
We were born into Hindu families and we never, ever heard of Jesus. But by the grace of God, with the help of the Holy Spirit, I heard the holy Gospel and believed in Jesus. And it is Jesus who helped me to get married and solved the problem. It is Jesus who helped and encouraged my wife to be strong in her fear. So we both became believers of Jesus. I heartfully give thanks to Jesus and we love Jesus and we read the Holy Gospel and learn more about Jesus. Thanks to you all in Christ.
– Pr Joseph Usala