Very Sick Outcast Receives Healing and Salvation
Oct 14, 2021 1481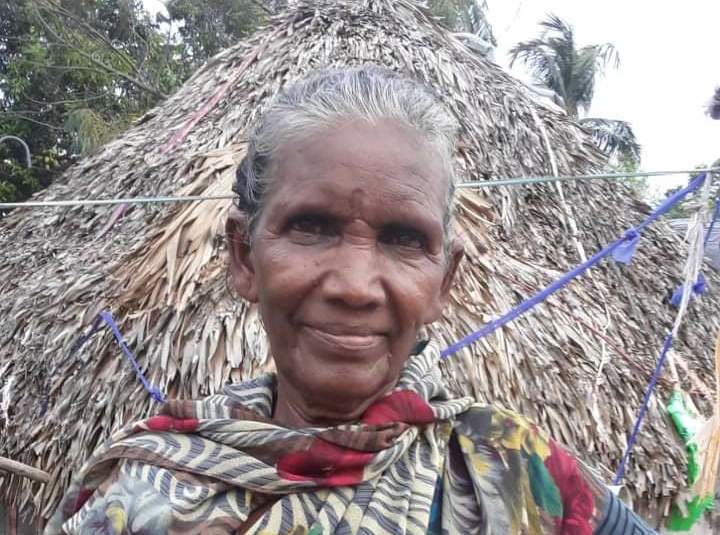 Gondamma is a 52 year old tribal woman who has accepted Jesus into her life and lives on the bank of the river in a hut made of leaves. She was very sick, and abandoned by everyone. But after hearing the Gospel, she received healing and salvation.
She was born in the tribal race and her family for generations had been going out catching rats, snakes and frogs and fish. They had no place to live. They slept under the trees and on the bank of the rivers. They do not know about God. They never worship any God. They only know catching and eating and drinking. They never, ever heard about Jesus.
Gondamma married years ago and her parents died due to sickness and after a few years she lost her husband and she did not know what to do. She has two sons who married and went to another distant tribal village where they live on the bank of the river. So she decided to live in the hut alone.
One day she became seriously sick and she did not know what to do. The next day she walked to a distant place where there is a hospital. The doctor saw her and gave medicines and said to rest a few days without going anywhere. But she had nothing to eat. So she went out and was begging from house to house and returning home in the evening.
"It is Jesus who healed me first and saved my life."
After a few days again she became seriously sick and was unable to go to hospital and she stayed inside the house. No one came and she stayed lying on the bed.
In the evening I went to share the Holy Gospel with the tribal people and conducted Gospel evangelism. After the Gospel evangelism I visited her house and asked her what happened and she shared with me everything.
Then I prayed over her and shared the Holy Gospel and she felt so happy. I told her to pray daily to Jesus and accept Jesus into her life. Then she accepted Jesus in her life and started praying to Jesus daily.
So she was healed in Christ from her sickness and accepted Jesus fully into her life. She shared her testimony and the people who heard accepted Jesus. So she is so happy now and whenever I go I share the Holy Gospel with her.
She says,
It is Jesus who healed me first and saved my life. When I heard about Jesus it was strange for me and I thought "Who is Jesus?" But as I prayed to Jesus I got healing and knew about Jesus. Thanks to Jesus for healing me.
– Pr Joseph Usala